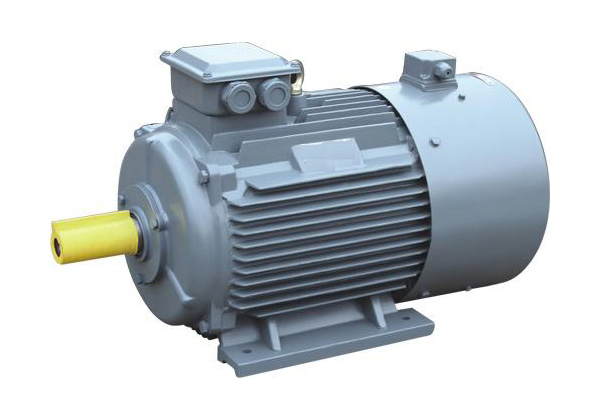 YJTG Series Invert-Fed Speed Adjustable Three Phase Asynchronous Induction Motor
Power: 0.55kw - 315KW
Speed: 600RPM/750RPM/1000RPM/1500RPM/3000RPM
Poles: 2/4/6/8/10 poles
Protection Degree: IP44/IP54
Cooling method: IC416
Insulation Class: F
Duty: S1
Package: Export Wooden Package
Payment: 30% in advance, balance by T/T or L/C at sight.
Potencia: 0.55kw - 315KW
Voltaje: 380V
Velocidad: 600 RPM / 750RPM / 1000RPM / 1500RPM / 3000RPM
Polos: 2 / 4 / 6 / 8 / 10 polos
Grado de protección: IP44 / IP54
Método de enfriamiento: IC416
Clase de aislamiento: F
Tipo de servicio: S1
Paquete: empaquetado de madera para exportación
Description and Application
YJTG series variable-frequency adjustable-speed asynchronous motor is the new generation of variable-frequency adjustable-speed motor, which is developed base on the YJT variable-frequency adjustable-speed motor. In the aspect of electromagnetism design, we adjust the rotor slots, the winding pattern, and the connection, so that the motor enable to be supplied by the transducer power source. Meanwhile, the design could guarantee the overload capacity of the motor when high frequency and it could maintain the same with Y series motor, besides the length size, other dimensions is also same as Y series motor, this series motor is forced ventilation with the independent axial flow ventilator, which guaranteed that the motor has good cooling performance in the entire frequency range and the temperature rise is not over that rating.
The speed modulation system consisted of YJTG series variable-frequency adjustable speed 3 phase asynchronous motor and the frequency conversion installing, compares with other speed modulation way, the energy conservation effect is remarkable, the speed modulation performance is good, the governor deflection is broad, the noise is low, the vibration is less, this motor can widely apply in the light industry, the spinning and weaving, the chemical industry, the metallurgy, machine tool which need permanent torque or adjust speed at the permanent power and the air blower, the water pump which need energy saving speed modulation. It is helpful in developing automated control of the speed modulation system.
The 4 poles motor of YJTG series electric motor conform to JB/T7118-2004 "the specification of the speed modulation system. Conversion variable speed motor and power sources condition" and for other number of poles of electric motor conforms to IEC34-1 and GB/T755.
Descripción y aplicación
El motor asíncrono de velocidad variable de la serie YJTG es la nueva generación de motor de velocidad variable, que se basa en el motor de velocidad variable YJT de velocidad variable. En el aspecto del diseño electromagnético, ajustamos las ranuras del rotor, el patrón de devanado y la conexión, de forma que el motor pueda ser alimentado por la fuente de alimentación del transductor. Además, el diseño puede garantizar la capacidad de sobrecarga del motor cuando es de alta frecuencia y podría mantener el mismo motor con la serie Y, el tamaño de la longitud, otras dimensiones también son las mismas que el motor de la serie Y. Este motor es de ventilación forzada con el Ventilador de flujo axial, que garantiza que el motor tenga un buen rendimiento de enfriamiento en todo el rango de frecuencia y el aumento de temperatura no supere esa clasificación.
El sistema de modulación de velocidad consistió en la serie YJTG de velocidad variable ajustable de 3 fases, motor asíncrono y la instalación de conversión de frecuencia, en comparación con otros modos de modulación de velocidad, el efecto de ahorro de energía es notable, el rendimiento de modulación de velocidad es bueno, la deflexión del gobernador es amplia. el ruido es bajo, la vibración es menor, este motor puede aplicarse ampliamente en la industria ligera, para hilado y el tejido, además de la industria química, la metalurgia, la máquina herramienta que necesita un par permanente o ajustar la velocidad a la potencia permanente y el soplador de aire. la bomba de agua que necesita modulación de velocidad de ahorro de energía. Es útil en el desarrollo del control automatizado de sistemas de modulación de velocidad.
El motor de 4 polos del motor eléctrico de la serie YJTG cumple con la especificación del sistema de modulación de velocidad JB / T7118-2004 y para otros números de polos del motor eléctrico cumple con IEC34-1 y GB / T755.
Type of Meaning
Example:YJTG200L1-6
YJTG state for: Type of motor
200 state for: Center Height
L state for: Frame Size
1 state for: Core Length
6 state for: Number of Pole
Tipo
Ejemplo: YJTG200L1-6
Estado YJTG para: Tipo de motor
200 estado para: Altura del centro
L estado para: Tamaño de fotograma
1 estado para: Longitud del núcleo
6 estado para: Número de poste
Working Condition
1. Ambient Working Temperature: Ambient temperature varying with seasons should be between 40℃ and -15℃.
2. Altitude: Not over 1000m above sea level.
3. The average relative humidity in the most moisture month is 90%. And meanwhile, the average lowest temperature should not be over 25℃.
4. Termination: Y(star) connection below Frame 280. ▲(delta) connection for Frame H315-H355..
5. Operation Mode(duty): S1.
Condiciones de trabajo
1. Temperatura de trabajo ambiente: la temperatura ambiente que varía con las estaciones debe estar entre 40 ℃ y -15 ℃.
2. Altitud: No más de 1000 msnm.
3. La humedad relativa promedio en el mes más húmedo es 90%.Mientras tanto, la temperatura promedio más baja no debe superar los 25 ℃.
4. Terminación: Conexión Y (estrella) debajo del Cuadro 280. Conexión ▲ (delta) para el Cuadro H315-H355.
5. Modo de operación (servicio): S1.
Motor Construction
1. Protection Degree: IP44/IP54
2. Cooling Method: IC416
3. It can carry high resolution sensor (the electro-optical encoder, the rotary transformer and tachogenerator) according to customer's requirement.
4. It can carry magnetic brake(both circulation and lose electric brake is ok), gear speed reducer, etc.
5. Standard terminal box mounting is on the right hand side seen from the shaft end of the motor. As an alternative, mounting at the top or on the left hand side is possible on request.
Construcción del motor
1. Grado de protección: IP44 / IP54
2. Método de enfriamiento: IC416
3. Puede llevar el sensor de alta resolución (el codificador electro-óptico, el transformador rotatorio y el tacogenerador) según el requisito del cliente.
4. Puede llevar freno magnético (tanto el freno eléctrico de circulación como el de pérdida), reductor de velocidad de marchas, etc.
5. El montaje de la caja de terminales estándar está en el lado derecho visto desde el extremo del eje del motor. Como alternativa, el montaje en la parte superior o en el lado izquierdo es posible bajo pedido.
Mounting Type
Frame Size(H80-H160): IM B3, B5, B35, V1, B6, B7, V3,V5, V6, V15, etc.
Frame Size(H180-H280): IM B3, B5, B35, V1.
Frame Size(H315-H355): IM B3, B35, V1
Tipo de montaje
Tamaño de fotograma (H80-H160): IM B3, B5, B35, V1, B6, B7, V3, V5, V6, V15, etc.
Tamaño de fotograma (H180-H280): IM B3, B5, B35, V1.
Tamaño de fotograma (H315-H355): IM B3, B35, V1